Extreme Velocity Track Club
Marissa Kurtimah's Road to Rio Olympics
Extreme Velocity's Marissa Kurtimah, Rewrites Record Book at Arkansas Invitational.
Marissa Kurtimah breaks indoor 60-meter dash MSU record

FAYETTEVILLE, Ark. – The Missouri State track and field team competed in its second meet of the 2015-16 indoor season at the Arkansas Invitational here Friday. Sprinter Marissa Kurtimah tallied the lone first-place finish in an event at the meet .The most impressive performance of the day for the Bears was by the junior Kurtimah, who tied her career-best in the 60-meter dash in the preliminaries with a time of 7.50 seconds. Kurtimah stepped up to the line in the final and broke free crossing the finish line with a time of 7.46 seconds to write her name in the record book as the fastest indoor 60-meter dash runner in MSU history, replacing the record of 7.48 that was marked by Pernell Joseph in
in the nation.


Logan Jones Settles in at Long Island University!
Powered by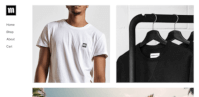 Create your own unique website with customizable templates.